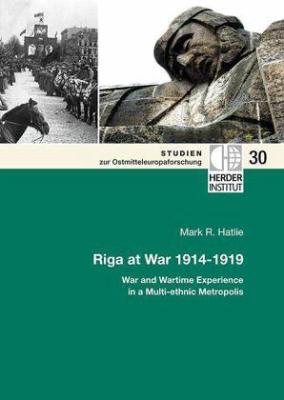 The book has now been published with the Verlag Herder-Institut:

ENGLISH:
A century after the catastrophe of 1914, Mark Hatlie's Riga at War: 1914-1919. War and Wartime Experience in a Multiethnic Metropolis tells the story of the Baltic metropolis and its half million residents during the years of world war, revolution and civil war. The book follows the major events in the city, from the mobilization of 1914 through the mass evacuation of 1915, the revolution of 1917 and the German occupation of 1917 to 1918 and the chaos of 1919 marked by the arrival of a communist regime, the liberation of the city by Balt and Latvian forces, and a final battle for the city between the Latvian army and the Russian "White" general Bermondt-Avalov. The second half of the book examines the competing wartime experiences of the city's major national groups, the Germans, Latvians and Russians. These groups experienced the catastrophes, battles, upheavals and occupations in very different ways. The differing interpretations and actions of each national group expressed themselves in politics, religion and society, reflected in contemporary documents, memoirs, diaries and periodicals.

DEUTSCH:
Hundert Jahre nach der Katastrophe von 1914 zeichnet Mark Hatlie in Riga at War: 1914-1919. War and Wartime Experience in a Multiethnic Metropolis die Geschichte Rigas während der Jahre des Ersten Weltkriegs und der darauffolgenden Kämpfe und Bürgerkriege nach. Das Buch nimmt die Stadt und ihre Bevölkerungsgruppen unter die Lupe. Die großen Etappen des Krieges in der Stadt werden behandelt, von der Mobilisierung, der Massenevakuierung, der Revolution und der deutschen Besatzung bis zur raschen Abfolge politischer und militärischer Ereignisse 1919. Gegenstand sind auch die demographischen Folgen, bei denen Riga zeitweise etwa die Hälfte seiner Bevölkerung verlor. Im zweiten Teil des Buches behandelt Riga at War die subjektive Kriegserfahrung der Deutschen, der Letten und der Russen, die in Riga lebten. Die unterschiedlichen Nationalitäten sahen den Krieg aus unterschiedlichen Blickwinkeln. Ihre unterschiedliche Wahrnehmung der Ereignisse und ihre unterschiedlichen Handlungsmuster in Politik, Gesellschaft und Religion werden anhand zeitgenössischen Zeitungen, Archivalien und Memoiren beschrieben und analysiert.